Moving is a great idea until we start packing – This meme tells the whole story of shifting or moving day. Moving is kind of a huge event or shuffles in our lives. The excitement of new place and environment and of course the stress of packing and unpacking the items safely.
Packing plays a vital role in every kind of removal service or relocation. It is important for various reasons. Most important it will protect the goods when being loaded, unloaded, and moved from one to another location. It conducts the relocation in a smooth and organized manner. So, It is always better to give your time to it. Especially before you start packing your goods, plan what you really want to move to your new place. Discard all the unnecessary things before moving, as they will only take the space.
WHAT KIND OF MATERIAL USED FOR PACKING?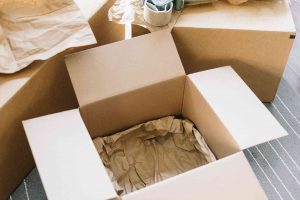 All the important goods and essential items need to be packed safely and efficiently. For proper safety, each and every item should be packed through good quality packing material. Either you are doing it by yourself or hiring an professional company, you must have a knowledge of the right packing stuff for every item. There are various types of packing material available in the market for different types of items to pack. Here are some most important materials listed below for hassle-free relocation.
Cardboard/Moving boxes:
Moving boxes are light-weight square or rectangular shapes boxes made up of tough cardboard. These are the most essential items for packing during moving from one place to another place. You can find these moving boxes everywhere. It most commonly used in packing supplies. These come into different shapes and sizes. You can buy them from any local supplier.
Group all the items and check which size and shape of cardboard box you want to pack them. You can pack your clothes, books, some kitchen stuff, etc which does not have a risk of damage during relocation. These boxes are very helpful during relocation but must be loaded carefully during shifting. Arrange them properly during loading and make sure that they will not collide during movement.
Specialty boxes:
As the name suggests, Speciality boxes are generally used to pack some delicate stuff. To pack all general items we can use moving boxes but for special boxes. Differentiate all the delicate items and choose the specialty boxes according to the items. There different types of specialty boxes for like,
Wardrobe boxes – Used for packing your clothes and important dresses that you do not want to get wrinkled during relocation. It comes with a metal rod which is used for hanging clothes.
Heavy-Duty boxes – This comes with double-layer protection. You can use them to pack your lampshades, heavy vas, etc.
Electronics packing boxes– From the name you can guess what is the purpose to use these boxes. It is used to pack all your electronic stuff like desktops, laptops, wires, etc. this type of boxes majorly used during office relocation.
Cell kits– These boxes come with an inner partition and used to packing small and fragile items. It is best for packing items made up of glass. This gives a high level of protection to your delicate items during moving.
TYPES OF WRAPPING SHEETS USED FOR PACKING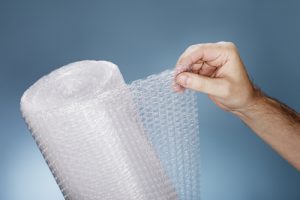 There are many types of wrapping sheets and tools, some of them are:
Wrapping paper:
It is one of the most essential stuff during packing and moving. Having moving boxes is not enough, good quality wrapping is very important for the safe delivery of your heart-close delicate items during relocation. Wrapping can be with old newspapers, brown sheets and for the especial purpose, you can use laminated wrapping sheets.
Bubble wraps:
It is made up of polythene and small air bubbles are on them. These are the most useful material in the world of wrapping. These can be used for packing almost every delicate stuff like photo frames, crockery, glass showpieces, antiques, etc. It gives the best protection to your fragile items. And at last, everyone loves to pop these bubbles after unpacking.
Packing peanuts: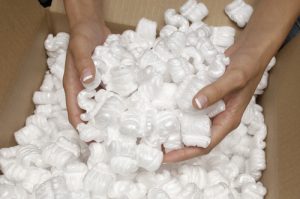 Many people use newspaper balls to fill the gaps between items in the moving boxes. But for better safety packing peanuts is used to fill the gaps in between the items. You can layer this for better safety of your goods and items at the time of moving.
Thermocol/Foam sheets:
For packing heavy items likes washing machine, oven, refrigerator, etc foam sheets are used. With box packing, thermocol sheets provide cushioning to your heavy items. This protection layer ensures no damage or scratches during relocation.
Labeling chits:
After packing, labeling is very much important. Must label each box, this will help at the time you unpack and assemble all the items at the new location. Sticky labeling chits are useful for labeling, use a permanent marker to write on them.
Packing Tapes:
It is used to wrap and pack the opening ends of boxes and wrappers. These also come into various shapes, sizes, and varieties like double-sided tape, brown tape, transparent tape, etc.
And so on there is a lot of variety in packing materials nowadays like Mattress bags, Box cutters, Scissors, Utility bags, Polythene bags, Jute bags, etc available in the market,
WHY I NEED PROFESSIONAL PACKING?
Moving from one place to another is already such a hectic and tiring task and think after the whole relocation, you find some of your stuff broken. This feels disgusting. To make sure that no damage happens during the home moving and shifting, you must hire a professional Moving and Packing Service Provider company.
Professional movers like, Moving Champs are experts in their moving services. Professionals ensure the safe delivery of goods and items. So before shifting check some good moving service provider companies for safe delivery of your products.
Benefits of professional packers and movers
Here are some fair points listed below that why professional movers should be hired for packing as well as moving:
Professional service providers are affordable and they will plan according to your moving budget.
They provide better safety to your goods and serve you with insurance on many of your valuable items.
They save your time. Hiring a professional packing service is always useful during house relocation. They are time efficient and helps to spend your time on numerous other things.
Professional movers are trained and provide you hassle-free packing experience.
They will get you high-quality Packing Services. For safe relocation professional movers know which kind of packing they should have to do with each item.
So, if you are planning to shift your home or office and you live in Brisbane, Australia then you must hire Moving Champs for world-class Packing and Moving Services.
For any query feel free to contact us on 1800849008
OR
Email – info@bestremovalsbrisbane.com.au
Your house or office relocation can be disastrous if you don't have all the important moving tools and equipment. Right tools, equipment and packing supplies is the core of safe and smooth relocation. With moving tools and good planning, your moving will be easier and...
read more