Games fill energy and enthusiasm in everybody, especially indoor games. Indoor games are best to enjoy with your family, friends, and acquaintances. Pool table, snooker, billiards are some of the most enjoyable and arduous indoor games. Everyone loves to play these games. The pool table is the most classic one. But when it comes to moving house from one place to another moving the pool table is the most challenging task. The pool table is a delicate and heavy article, tough to move by yourself. So it is always best to hire professional pool table removalists for the safe relocation of your pool table.
The Pool table or billiard table is the type of item which needs professional care and treatment during moving from one location to another. Professional pool table removalists know how to move, disassemble or assemble them before and after the relocation. Whatever the kind of pool table trusts us, we know better than you. Because moving a pool table which is near 500-1000kg can be injurious without any help of professional pool table removalists.
In this blog, you will get to know about the professional pool table moving services of removalists services, the cost-effecting factors of pool table moving in Brisbane, etc.
Professional Pool Table Removalists In Brisbane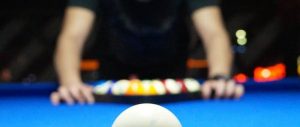 Are you planning to move our house or any stuff in Brisbane or its interstates? Worried about your loved pool table or snooker table? Don't worry a professional hand can help you in the situation. There are many removals service providers in Brisbane, but Moving Champs is the only one that serves you the best pool table removal service without flushing your budget. Moving Champs believes in high-class service delivery in all kinds of budgets and for every kind of people.
Moving Champs is also one of the experts and trusted pool table removalists in Brisbane. We offer the safe and secure moving of pool table, billiards table, snooker, and other indoor games which people prefer to play into their house. Moving Champs is the professional in assembling and disassembling pool tables before and after moving from one place to another. If you are also in search of expert, well-trained and reliable pool table removalists then you can undoubtedly trust Moving Champs in Brisbane.
Either you planning to relocate your pool table interstate or in local areas of Brisbane, Moving Champs is always ready to moves with you. We provide safe and reliable interstate moving at very nominal rates. A working team of Moving Champs is experienced and well-trained in packing and pool tables or billiards safely to the destination place. We move and arrange your pool table without any damage and offer pool table insurance too for your security and safety. Most important before any moving tasks we discuss, plan, and organize everything with our customers and work according to their wishes and in their suitable budget. Moving Champs can make your pool table relocation happy!
Why Moving Champs Pool Table Removalists Service Is The Best?
Moving Champs is a trusted company in this field of moving and relocation in Brisbane, in fact, all over Australia. Our and every service is well planned. The team of Moving Champs is an expert in moving heavy and delicate articles like pool table, piano, etc very smoothly. If you are looking for pool table removalists in Brisbane, then there are some strong reasons that why you should choose Moving Champs as your pool table removalists. When relocating your pool table or any other goods from one place to another, we ensure you the following things:
We use appropriate and right tools and equipment.
We meet the standards of OHS (Occupational Health and Safety).
Experience serving as pool table removalists in Brisbane for many years.
Usage of good quality packing supplies for a safe relocation.
Excellent transportation and safe cushioning to protect goods from any kind of damage while moving.
We understand the importance of time, No Delays!
Our team is certified and well-trained.
We offer customized service at very nominal rates.
Our insurance policy is easy to understand and ensures the safety of your goods completely.
Hope you get all the reason that why you should choose Moving Champs as your pool table removalists in Brisbane.
Cost-Effecting Factors Of Pool Table Removalists Services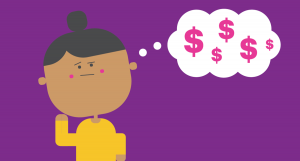 There are various things people consider while planning to move from one place to another. The safety and removalists budget factor is the most important one. If you are having another article like pool table, piano, etc it can also increase your budget. People think safety is directly proportional to moving budget means more safety, more money. But this is completely a myth, people just need to find the right and experienced company like Moving Champs which gives you safety without blowing your budget. Practically we have listed some cost-effecting factors which you can analyze while preparing your pool table removalists budget. Moving Champs and some other good removalists rates varies according to these given following factors:
Moving distance – Distance between old place to a new place or either you are moving in locals of Brisbane or in its interstate.
Weight, size, and type of the pool or billiards table.
Moving surface – depends on what type of surface pool table or snooker table is going to be moved (carpet, upstairs, downstairs)
Level of difficulty while disassembling and reassembling the pool table.
Packing materials – The cost of moving a pool table depends on the quality of the packing material.
Special requirements of types of equipment.
Any additional instruction which is given by customers for any other additional service like cleaning of the pool table.
Transportation charges – depends on the medium of transportation
Comprehensive insurance of pool table or snooker table for better safety.
Hence these are all possible factors that will help you to create your pool table removalists budget. There are other various minor things that depend on which circumstances your moving. Always choose safety over price because your pool table is more valuable.
How Moving Champs Move Your Pool Table?
Don't worry! No fear when Moving Champs is here. Moving Champs move and organize your pool table very smoothly to your destination place. The basic steps are planned and customized properly with the customers before the moving date. We work according to these basic steps which are specified below.
Collection of all the right tools
Team Moving Champs collects all the right tools and equipment which will be required at the time of moving for dismantling and reassembling of the pool table. Tools and items we use to move and pack the pool table are:
Flat-headed screwdrivers
Power drill
Level
Safety Gloves
Equipment to remove the staple from felt
Loader or hydraulic lifting tool
Moving Mattress
Bubble wraps
Strong packing tapes
Removal of pockets
The second step of moving a pool table consists of the removal of the pockets of the pool table. The pockets can be joined differently in the different pool tables like with staples, screws, nut&bolts, etc. Different tools are used to detach the packets safely and all the nuts bolts and screws and every pocket is kept intact so that it is easy to find later at the time of assembly.
Removal of Rails
The next step is the removal of rails from the pool table. With the help of the appropriate screwdriver, bolts are removed safely from the pool table and kept safely for future use. If the rails are connected, then it will need extra effort to detach from the pool table.
The detachment of the Felt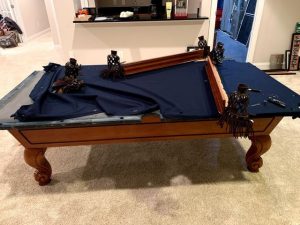 This part of moving demands patience. Team Moving Champs slow and steadily removes all the felts. If the felt is attached with glue, then we just gently pull it out with our hands. But if the pool table's felt is attached by staples, then we remove it with the appropriate tool. We take care that there no harm to felt while removing them from the pool table.
The Detachment of slats and legs
This is the heavy part because it needs strong muscle to hold the pool table and remove the slats and legs of the pool table carefully. We place all the bolts and nuts in sealed and labeled pouches for later use.
Packing Of Every Distached Item
After the removals of every required thing from the pool table, we pack all the items like slats, legs of the pool table, felt, etc with a good quality packing material. We bubble wrap everything for better cushioning and safety while moving.
Transportation And Reassembly Of The Pool Table
At last, we load all the items with help of trollies and loaders and moving through a convenient transportation medium or as requested by the customers. After arriving at the destination place, all the reassembling and organization of the pool table is done.
These all steps may sound complicated and complex to you but very easy for professional pool table removalists like Moving Champs. Moving a pool table involves heavy lifting, dismantling, loading, moving, reassembly, etc which is not so is easy for a normal person. Therefore it is always great to appoint professional movers for your pool table.
For any query or question feel free to call us on – 1800849008

Or

Email: info@bestremovalsbrisbane.com.au

Or

Click on this link to contact our friendly customer service team for a task-free quote for Pool Removal Service.
Your house or office relocation can be disastrous if you don't have all the important moving tools and equipment. Right tools, equipment and packing supplies is the core of safe and smooth relocation. With moving tools and good planning, your moving will be easier and...
read more