Changing house or office is exciting but mind freaking also. Choosing the right removalists or moving companies for this task, shopping for new stuff, etc. Hiring the right moving company is essential, but the right moving insurance package is most important for the complete safety of your goods. Even though you are relocating your house or office with the help of Brisbane's best removalists team, there are chances of damage, theft, and accidents during transport.
Many moving organisations provide moving insurance for an additional fee, particularly during a long-distance move. It is suitable to take a moving insurance plan for your belongings to claim with the security provider. Because many times it happens that we take care of everything, but still it gets damaged. Whenever any accident or loss happens during the move, you would get compensated for the loss of your belongings.
For proper safety and security of your goods, you take moving insurance that ensures the proper valuation of your stuff and perverse its value too.
Best Removals Brisbane advises you to take moving insurance whether you are shifting in local or any other country. This moving insurance is like a backup for all your important stuff if any damage or loss happens. It works like other regular insurance like vehicle insurance that prevents the vehicle's value if any damage or accident happens.
Moving insurance protects your goods from any damage while shifting and moving, and it is available in different ranges. People take insurance for piano, pool tables, antiques, bathtubs, etc. Before choosing what type of insurance you need for your belongings, Best Removals Brisbane advises you to read this entire blog to know everything about moving insurance. It will make your decision easy and help you to choose the right insurance for goods.
What Is Moving Insurance / Valuation?
Misfortunes can happen anytime to anybody or anything. In 90% of the cases, while moving, some things get damaged or distorted after packing correctly also. So it is essential to take moving insurance to recover the value of your goods. Moving insurance is a type of insurance coverage that can protect against any damage or loss of your belongings during relocating process.
Insurance can be operated as a necessary tool to preserve and safeguard your precious belongings. Removal insurance is nothing but the valuation provided by your moving company. This valuation works as insurance for your goods and bonds, a commitment between you and your moving company. However, if any damage happens, your moving company will compensate for that damage.
There is just one thin line between moving insurance and valuation: Insurance is just coverage for the damaged goods. As Moving companies are not insurance providers or not any government body to sell insurance, therefore they provide a valuation of your goods to assure you, and this valuation works like moving insurance. However, valuation is the cost that the moving company should pay if any damage happens to your goods. In short, moving insurance is just a bond of valuation of your goods that helps protect them from any uncertainty or mishap.
So, always read all the terms and conditions before moving forward with your house removalist company. Now, there are different types of valuation and other terms that you must know before your relocation journey.
What Are The Different Types Of Valuation / Moving Insurance?
Moving companies offer two types of moving insurance or valuation for all kinds of relocation, but there are three kinds of valuation to protect the goods. You can choose any valuation that suits your move and ensures the safety of your goods. All the professional Brisbane removalists offer the following valuation options on your goods.
Released Value Protection
If you don't have many fragile or damage-prone goods or relocate your goods to local areas, choosing released value protection can be a good decision. Released value protection is the primary valuation package that moving companies offer. The customer needs to ask for this and must agree to all the contractual terms and conditions of coverage.
It is not expensive. There is no need to pay anything extra in this type of valuation, but it serves you very little protection and coverage. Under released value protection, if any loss or damage to any good happens, the moving company will not compensate or repair it.
Key Point To Remember:
Released Value Protection serves compensation or coverage up to $0.60 per pound for goods.
It doesn't cost anything.
It is doesn't cover total valuation.
Suitable for short-distance relocation.
Full Value Protection
Full Value Protection is the best way to protect your belongings when moving interstate or out of the country. Full value coverage offers complete protection, and it is more valuable than released value protection. This valuation policy costs you a bit but serves comprehensive valuation coverage of goods towards any damage or loss.
In this moving insurance, your moving company will take all the responsibility for relocating your goods. They provide a full-value replacement of the damaged goods.
According to your goods' worth and per pound, you have to pay a premium amount of coverage. Most moving companies have their moving policy for full-value protection, and some serve minimum value to claim on your goods.
Key Point To Remember:
Serve full coverage on all your goods.
A bit expensive than released value protection valuation.
The moving company will repair to those items which are broken at time of the shifting.
Replace or provide cash settlement on lost items.
It provides a minimum of $6 per pound of goods.
It doesn't provide coverage for too costly and extraordinary items.
Many companies provide additional insurance coverage on extraordinary items like antiques, pianos, and other valuable goods. The higher the value of excellent goods, the more you have to pay the premium of your valuation.
What Doesn't Cover By The Moving Insurance / Valuation Offered By Moving Company?
There are many situations under which moving companies will not provide any valuation for your goods. The moving companies will not compensate for anything that happens due to natural disasters. Here are some of the other conditions under which you won't get any compensation for your goods:
If you pack your items on your own, you won't get any compensation for any damage.
Suppose you don't tell about damage or loss as soon as possible to your mover. Its period is up to 6 months after moving.
And when you don't check what goods are going to be covered under your valuation policy.
If you move dangerous things without notifying your moving company.
If you damage any item while moving, then it will not be compensated under the valuation.
Third-Party Options
Many people seek outside the moving company to protect the value of their goods from any damage and loss while moving from one place to another. This is called the third-party option. It also depends on the size and market value of your goods. Their different types of premiums fall under this third-party option.
Key Points To Remember:
Third-Party insurance covers damage from natural disasters.
It is a bit costly than a full-value protection policy.
It serves coverage to extraordinary items that are more than $100 per pound.
At last whatever you choose for the proper protection for goods, must read and compare all the terms and conditions of the moving company that what will be covered. Double-check everything!
Is Moving Insurance Important Every Time?
Moving insurance is always beneficial, and we highly recommend taking insurance for your goods whenever you shift from one place to another. After all, you don't want to find your belongings waste and damaged at the end of the relocation process.
It may also depend on how many valuable things you are carrying to your new place. If you have too much stuff, you should ask your mover for a full-coverage insurance policy, and with this, you must appoint your moving company for complete packing services.
What Should Be Paid For Valuation Coverage?
It is not a fixed charge. The pay for the valuation coverage varies from place to place and company to company. It also depends on the size and worth of your goods. But make sure that you are paying only for those articles you want to be secured under the moving insurance. Read the documents and policy properly before your relocation.
If you are hiring house removalists or office removalists, then choose a full value coverage. And if you want to move some items securely, then you choose an additional coverage service. The additional coverage with full-value protection also varies from company to company, so be aware of what price you will pay. The premium on full-value protection is 1% of your total shipment.
How To Find Best Valuation?
Ok! Now you have proper knowledge about moving insurance and valuation but are still confused that valuation is suitable for your move. Here are some factors that help you to find the right valuation package for your goods:
Determine the overall worth of your belongings which you want to protect under insurance.
Do some calculations to determine if released value protection is sufficient.
If you're moving long-distance, then choose full-value coverage.
Additional coverage for unique articles.
Things to look for when taking the valuation
Be clear about the valuation
Verify the coverage of the valuation
Ask your queries to the insurer
We hope you get all the necessary information regarding moving insurance and valuation. But if you still have some questions and queries, then don't hesitate, ask anything regarding moving to the experts' Best Removals Brisbane.
Call on – 1800849008 Or

Email – info@bestremovalsbrisbane.com.au
To start your fully insured moving journey, ask for a free quote!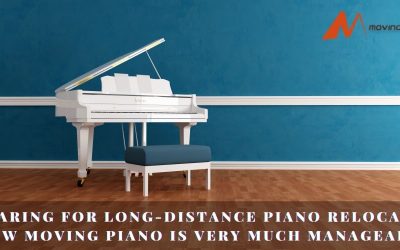 Oh Great! You will be shifting to a new house in Brisbane, feeling excited and a bit nervous about moving house. Shifting can be very stressful and mind freaking if you have lots of delicate stuff like a pool table, piano, antiques in your home. Of all these delicate...
read more